Posted on February 20, 2018 by Lisa Phillips
If truth be told, is it fair to say that when it comes to marketing your business it sounds great to 'think about that tomorrow'? If you are like most entrepreneurs and founders, you are knee deep DOING your business and everything else takes a back seat. Especially when it comes to marketing.
But, what if marketing was as much fun and rewarding as DOING your business? What if marketing your business became a part of DOING your business?
What if marketing became synonymous with your BRAND…?
Then would you be willing to think about it today?
How about now?
In light of the fact that we are marketing in The Age of Participation, today is your lucky day, because…
DOING your business can now be THE SINGLE GREATEST WAY TO MARKET YOUR BUSINESS!!!
I call this ~ The Art of Marketing.
Capturing what you do for your business in content while you are doing your business leverages that time and uses it for marketing.
Marketing in The Age of Participation, by Diana Middleton, is a fantastic source that clearly articulates 'A guide to motivating people to join, share, take part, connect and engage.'
What is The Art of Marketing?
The Art of Marketing takes the pain and mystery out of marketing with effective campaigns made simple. Sounds too good to be true, right? Stick with me and I'll take you through it.
There aren't any tricks to this. As a matter of fact, it doesn't even require a lot of additional work. Done with a bit of forethought and planning this approach may prove to SAVE you time and leverage your existing assets in ways you haven't even considered – all while immediately fueling significant and measurable growth.
I'm talking about weaving marketing into your daily, weekly, or monthly routine without costing you additional time.
Anthony Robbins uses the acronym, NET: No Extra Time. It's a great strategy that we're going to borrow and apply to marketing WHILE doing what you are already doing.
Who doesn't want to make improvements to their bottom line that SAVE TIME…? In all fairness, there is a learning curve and a bit of fine-tuning to arrive with this NET benefit. However, enlisting in these strategies will not disappoint!
There is also the possibility that, after learning The Art of Marketing, some of those expensive, ineffective, time-consuming strategies you're currently using can be scrapped! Then, you may find yourself in a NET + game… but, I'm getting ahead of myself.
At the core of a creatively effective marketing campaign that is impactful, inspirational, innovative, and memorable, is passion. Yep, good old-fashioned HUMAN EMOTION. So, that's where we're going to dive in.
#1 Rule: Do What You Love!
I'm serious! Do what you love.
If we focus our efforts on doing the things that we love, chances are they will get done with ease, expedience, and perhaps a bit of creativity.
Even the mere thought of the things that we dislike 'doing'  can expend our energy and begin a cycle of resistance against the idea of doing something laborious …and all the while our minutes continue ticking away.
On the other hand, if there is something that you love to do, all of that energy, thought, motion, and emotion can be moving your project forward into actualization
So…what do you love to do? Does it include any of the following: taking photographs, recording videos, writing, or talking about your business? What about playing an instrument, painting, drawing, calligraphy, or creating digital art?
Try this quick thought-experiment: STOP reading this and search inside. Be honest. Is there any part of you that loves to DO any one or a combination of these?
If your answer is 'Yes!', then you've just taken the first step in leveraging an existing asset…YOU.
Bottom line: your business needs CONTENT that it creates and owns.
No matter how you choose to 'get the word out' about your brand: (web site, social media, direct sales, print, or broadcast), you'll be using someform of content.
Creating great content is an art well within reach – but without breaking your bank…or back!
Whether you end up crafting the content yourself or employing the assistance of others, there are many ways to go about this. There are freeapps, image and video libraries, DIY content creation demo-videos, and creative -content studios to support any type content creation. The'doing' will be a breeze when you realize "I can do this!' Then enlisting in what makes the most sense for you and your brand is a snap.
For example, are you not only a professional who has built a best-in-class service-oriented business, but also someone who is at ease being a speaker or presenter? Creating a podcast and or videos in which share your knowledge and expertise could effectively serve your clients and industry well while making a personal connection at the same time.
Have you ever considered just how often are you repeating the same ideas again and again to your clients? Could you leverage some of these problem-solving scenarios by featuring these ideas in a monthly newsletter or blog on your business's website?
Notice that I said 'serve your clients and industry'…?
Creating and sharing content that is VALUABLE information is generous. People appreciate generosity and tend to remember who they learn something new from.
If these videos are produced with authenticity and relevance, chances are you will grow not only your reputation as a resourceful Thought Leader, but also your Know, Like and Trust factors. (We've just further leveraged YOU as a marketing asset!)
Embracing content as the foundation to a marketing strategy in The Age of Participation will best serve in building an audience of FANS who may very well convert into customers. These customers will have an avenue to remain connected to your brand through your content.
Brands that are solely focused on lead-generating, selling, and social media, are ignoring the need for a content marketing strategy and are ill-equipped to own their market share. Here's a post on that:
What is a Content Marketing Strategy?
As defined by the Content Marketing Institute: "Content marketing is a strategic marketing approach focused on creating and distributing valuable, relevant and consistent content to attract and retain a clearly defined audience – and, ultimately, to drive profitable customer action."
If you're like me, even reading that turns me OFF… what the heck are they even TALKING about? I take issue with a great many marketing articles. I find them laden with misused and confusing marketing jargon that, even after nearly three decades as a marketing executive, I struggle to get through. It's extremely challenging to sort through all the misinformation for ideas of real value or perspectives that offer real insight
There's one glaring point in the above definition that I want to address for clarity. It is the need for 'consistent content'.
The proliferation of this notion has led to outright content pollution and mania…This is simply NOT TRUE and wastes so much time and money!
Decoding the meaning of a Content Marketing Strategy:
Content = Still or moving images, words & graphics
Marketing = Moving goods and services from concept to the customer.
Strategy = A plan of action.
Purpose = Build audience/generate leads/make sales/give fans reasons to ENGAGE.
The content can come in a myriad of shapes, sizes and forms.
The Golden Rules for content are to create bite-sized pieces of GOOD, RELEVANT, AUTHENTIC & RELATABLE material that ties back to your brand. Ultimately, this fuels creatively effective campaigns.
We all know there is a ton of content created for entertainment. But if the content doesn't relate in some way back to the brand, it will be wasted at best; at worst, your brand will be resented for wasting valuable time and be kicked to the side as DOA.
The Art of Marketing embraces a combination of the best concepts and strategies to market a brand with creatively effective campaigns:
Embrace Marketing in the Age of Participation
Leverage Existing Assets
Do What You Love
Employ a Content Marketing Strategy
What does participation with your business look like today?
What could it look like?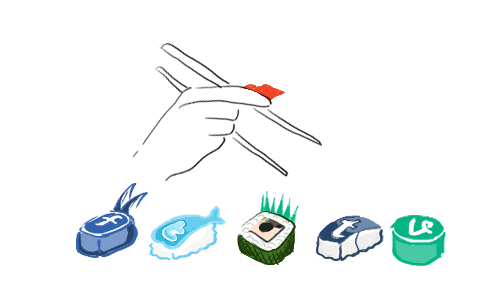 Let's Get Social
To Learn More, Visit Us at MadheartMarketing.com